Satanist -
Cardenal Jorge Mario Bergoglio-Sivori
aka Antichrist NWO Francesco the cruel - wait until you see his REAL self. Just like Antipope Paul VI an avowed Satanist who pretended to lament the Smoke of Satan in the sanctuary - in reality he was sneering gleefully about it.
The Beast of the Earth
11 ¶ And I saw another beast coming up out of the earth: and he had two horns, like a lamb: and he spoke as a dragon.
April 20, 2013 - Within the Octave
Semidouble Feast
Francis-Bergoglio Proclaims Himself A New Order Sectarian to the Core
In His Latest Statement He Calls True Catholics by an Italian Vulgarity: "Jackasses"
From: The TRADITIO Fathers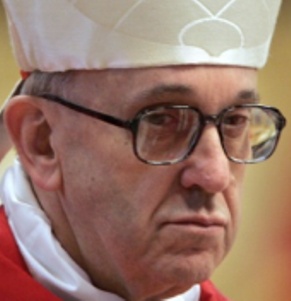 Francis-Bergoglio, Looking Like a Testardo Himself
Bergoglio Has Publicly Separated Himself from Benedict-Ratzinger
"Mr. Humble" Has Now Used a Vulgar Word in Italian to Describe Catholics
Who Follow St. Paul's Call to Hold Fast to the Catholic and Apostolic Faith
Bergoglio Has Proclaimed Himself a Complete Adherent to that Heretical Council
Even Ratzinger Admitted that there Were Serious Problems with the Council
Day by day, the world is learning just what Francis-Bergoglio stands for, and no way is it the Catholic and Apostolic Faith of Our Lord Jesus Christ. On April 16, 2013, Bergoglio publicly separated himself from his predecessor, Benedict-Ratzinger, who at least admitted that there were serious problems with the Second Vatican Council (1962-1965), on which the New Order sect is based. Francis appeared to blow off his Newpapal predecessor and all those who are trying to hold fast to the traditional Faith of Christ as
testardi.
Well, Our Lord Himself was called worse and, Himself never one to withhold criticism of those in error, even called Peter, the first pope, "Satan" (Matthew 16:23/DRV).
Bergoglio in his remarks slurred traditional Catholics with a nasty word in Italian, which has been softened out in English translations, using the weaker "stubborn" or "hardheaded." But that does not give the nasty sense of the word in Italian, which is based upon the Latin testudo, tortoise-shell. Changing the animal reference, "jackass" ("mule") would get more of the colloquial flavor of the Italian vulgarity that Bergoglio used.
[Some information for this Commentary was contributed by the Vatican News Service.]
The Modernist Vatican II Council Bergoglio calls "the beautiful work of the Holy Spirit." However, the Newpope who promulgated every single one of its sixteen documents, just seven years after the Council's end was describing that Council in these terms:
"the smoke of Satan has entered the temple of God: it is doubt, uncertainty, questioning, dissatisfaction, confrontation.... We thought that after the Council a day of sunshine would have dawned for the history of the Church. What dawned, instead, was a day of clouds and storms, of darkness, of searching and uncertainties"
(Paul VI, June 29, 1972, Sermon during the Mass for Sts. Peter & Paul, on the occasion of the ninth anniversary of his coronation).
Good Catholics, it seems that "Mr. Humble" is not humble when it comes to following Catholic and Apostolic teachings. He seems to make them up as he goes along. He blithely ignores the fact that his New Order sect is sinking. Attendance at his invalid Novus Ordo services are heading down to a mere ten per cent. Religious orders will be essentially dead within the decade. Ireland has shut down all Newchurch schools because of the Newpopes' support of their paedophile presbyters. In the United States, half the Newchurch schools have been closed in the last decade because Newchurchers won't contribute enough to support them. The Vatican Bank is under interdict because of its violation of the European Union's regulations agaainst money-laundering. Even Newvatican's ATM machines were cut off. It seems that "Mr. Humble" would better be termed "Mr. Clueless"!
All copyrighted sources are quoted and used for comment and education in accord with the nonprofit provisions of: Title 17 U.S.C., Section 107. This site is in accordance with Title 17 U.S.C., Section 107 and is protected under: The First Amendment -
Congress shall make no law respecting an establishment of religion, or prohibiting the free exercise thereof; or abridging the freedom of speech, or of the press; or the right of the people peaceably to assemble, and to petition the government for a redress of grievances.