Ratzinger -right in picture-
{now Antipope Benediktos [xvi] the Diabolic} and company, Jesuit Karl Rahner -left in picture [Vatican II council session]- etc.)
Antichrist theosophist Jesuit Karl Rahner's preternatural descendant Cardenal Jorge Mario Bergoglio-Sivori S.J. Black/White Antipope is moving toward the priestesses of Isis in his newest Diabolic garbage meant only to trash the real Gospel.
Rahner's absolute apostate heresies included in his Satanic counsel as a Diabolic peritus (so called expert) the Antichristian neo-pagan/Gnostic idea of the "Anonymous Christian." Lifted in part out of the Judeo-Masonic claptrap of Jean Chauvain - actual Jew name of Yôḥanan Cohane or Jean Cohen - known as John Calvin.
_______________________________________________________________________
Bergoglio: newguy and newpope in newrome | Watching the Wicked Seed
Bergoglio: Newguy as newpope in newrome
Pope Pius XII
condemned several of its anti-christ errors in the encyclical,
Humani Generis
. One of the principle supporters of this evil trend to destroy the Timeless Church was an intellectual mendicant named
Josef Ratzinger.
Ratzinger was under
suspicion of heresy
in the reign of Pius, but after that good Pope's death, he crawled back into the shadows to continue causing disruption to the body of the Church.
The "Novel Theology" was cobbled by these arch-criminals, that included Ratzinger, the young bootlicker:
Henri de Lubac
,
Pierre Teilhard de Chardin
,
Hans Urs von Balthasar
,
Yves Congar
,
Karl Rahner
,
Hans Küng
,
Edward Schillebeeckx
,
Marie-Dominique Chenu
,
Louis Bouyer
,
Étienne Gilson
,
Jean Daniélou
, and
Jean Mouroux
. This is the gang of criminals wanted in the robbery of the timeless things of faith. Happily, most have shuffled off their mortal coil and found their just reward as they stood naked before the Lord. Any good Catholic will realize they've finally received their eternal pieces of silver as good agents of the ancient enemy, satan.
During Pius's reign, he asked
Dietrich von Hildebrand
to investigate the works of de Chardin. Von Hildebrand was an intelligent Catholic scholar, unfortunately wound up in the thrall of
phenomenology
.
Von Hildebrand wrote that the heretic's works were so convoluted, quasi-mystical, and unintelligible that such a task was daunting. These elements are part of the bags of tricks used by satan to deceive the world. Simplicity is in Christ's Word; ambiguity, confusion, and convolution are marks of satan.


Nevertheless, this current errant occupant of the Throne of St. Peter, continues the stretch of men on the payroll of satan, who do his work, and continue in their attempts to crucify Christ again.


When confronted by wicked men Christ was clear. In
Luke, 19.xxvii
: "But as for those my enemies, who would not have me reign over them, bring them hither, and kill them before me."
After Holy Mother Church regains Her rightful place in the world, the killings will commence, if only to anathemize the wickedness of Vatican II, the "Novel Theology," and the men who vigorously thrust this vile sword of evil into Christ's side.


New pope? Who cares? The diabolical wickedness continues unabated.
_______________________________________________________________________
TRADITIO Traditional Roman Catholic Network, including the Official Catholic Directory of Traditional Latin Masses
From: The TRADITIO Fathers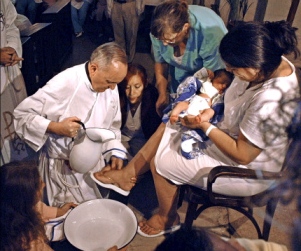 Francis-Bergoglio Violates 2000 Years of Catholic Tradition
To Wash the Feet of Two Females and Two Infidels
In the Holy Thursday Maundy Rite
Which Is Supposed to Represent Christ's Washing
Of His Twelve (Male) Apostles' Feet
Is Bergoglio Softening up His New Order Sect
For Deaconnesses, and Even Priestesses
The Motarians, Neocon Newchurchers, and pseudo-traditionalists are devastated. They have quickly realized that Francis-Bergoglio is going to dismantle what little is left of Catholicism in the New Order sect. His latest slap in the face to those who sold out to Benedict-Ratzinger's phony Motu Proprio for the Half Novus Ordo Vatican II "Mess of 1962+," engineered by his friend at Vatican II, the Freemason presbyter Hannibal Bugnini, was Begoglio's violating 2000 years of Catholic Tradition to wash the feet of two females and two infidels at the Holy Thursday maundy rite, which is supposed to represent Christ's washing of his twelve (male) Apostles' feet.
Newvatican's propaganda machine is defending Bergoglio's action as "absolutely licit." Yeah, sure. It does not take a brilliant intellect to see where Begoglio is going: softening up the New Order sect for the introduction of deaconnesses, and even priestesses.
Sources from Bergoglio's former Newarchdiocese of Buenos Aires, Argentina, have reported that Bergoglio spurned even the Half Novus Ordo "Motu" Mess there and described Bergoglio as a "horror" even for conservatives in the New Order sect. Not surprisingly, these same local sources indicate that under Bergoglio, the state of the Newclergy there is "dilapidated," and its seminary is a "disaster."
Bergoglio's latest Modernist abomination follows on his rejection of the papal mozzetta after his election was announced on the Newvatican loggia. He also has rejected the title "pope," instructing his curia and staff to call him "Jorge." At the Good Friday Stations of the Cross in the Roman Colosseum, he called Mohammedan [Ed. note - "Mohammedan" see below] infidels "brothers and sisters." It is widely rumored that Bergoglio is about to fire the relatively-conservative Newmonsignor Guido Marini, the current Newpapal Master of Ceremonies, to appoint a thoroughly Modernist "Millie."
[Some information for this Commentary was contributed by the Associated Press.]
[Ed. note - "Mohammedan" - which cannot refer to Trinitarian Quaranic Muslims who follow out the command to revere the Gospels, Injeel, of Christ and therefore come to Jesus Christ and confess Him as the Immortal Son of God become Incarnate by the Holy Spirit and virgin Mary and was Crucified, died, buried and Resurrected from the dead and Ascended into Heaven at the Father's right hand and will come again in the same flesh to raise and judge all men; and be baptized in Our Lord and Saviour Jesus Christ in the name of the Father and of the Son and of the Holy Spirit and come to the pure Eucharist of Our Lord and Saviour Jesus Christ untainted by paganism and Judaism.]
The Final Trial
Freemasonry Condemned
Traditional Catholic Prayers: False prophecy - terrible damage done and nothing else